Why Choose Us
We are Local
We live, work and play in our community. There are no travel costs for our local services, and we are able to provide quick estimates and service turnaround times. Additionally, choosing a local company supports and strengthens our community.
Habitat Supported
We are owned and operated by your local Charlotte County Habitat for Humanity. Habitat for Humanity is a long-standing trusted non-profit organization who for years has built homes, communities and hope in Charlotte County. The tried, true and trusted management of Habitat means you can count on our quality and professionalism with our 100% satisfaction guarantee. Solid reputation and trusted management = unsurpassed service.
Turnaround Times
With cleanout and removal services, speed is often essential. We will provide you a detailed estimate within 24 hours of receiving your request. Service requests will be executed on time and within budget.
Choosing Us = Giving Back
All revenue collected by Habitat Cleanout & Removal will fund projects and affordable housing within our community. Additionally, all furniture and household goods removed from a service location can be donated to our Charlotte County Habitat ReSale stores. 100% of net revenue from our ReSale stores are used in Charlotte County Habitat's homeowner program.
Choosing the services of Habitat Cleanout & Removal can truly make a significant difference in our community.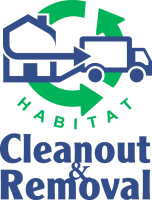 One (1).

The number of people it takes to make a difference for our community.
Become Part of Someone's "American Dream!" Volunteer Today