EXPERIENCED CLEANOUT & REMOVAL SERVICES
When you need experienced cleanout and removal services, call on Habitat for Humanity. For years we've been offering high-quality and professional service at affordable prices throughout the Southwest Florida area.
Service Area
Our dedicated staff regularly schedules appointments in Punta Gorda, Port Charlotte, North Port, Englewood, Venice, Cape Coral and N. Fort Myers. You'll always get superior customer service from start to finish from a staff that is qualified to complete your job in a timely manner.
Packing
Our Team will pack the unwanted contents of a site for removal. During this process our Team will sort items that can be donated, recycled or disposed.
Hauling Unwanted Items
All unwanted items will be removed from the site. We will deliver donation items, recycle items and disposal items to the appropriate locations. Upon completion, the site will be clear of unwanted items.
Donations
With the client's approval, items such as furniture, appliances and general household goods in good condition will be donated to our ReSale stores. Funds raised from the resale of items will be used in our homeowner program.
Property Cleaning
For an additional fee, clients can request to have the property broom swept and walls wiped down with a dust rag.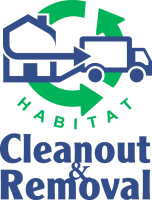 One (1).

The number of people it takes to make a difference for our community.
Become Part of Someone's "American Dream!" Volunteer Today